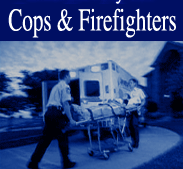 Found 5 UNIFORMS / EQUIPMENT Listings for New York.
Choose a different state:
~ 07/13/17 ~
I am selling an NYPD 3/4 Length Blauer Coat, size XXL. Only worn once. Looking to get $20.00. If interested please call (845) 558-5272, or email at craigc0715@yahoo.com. Craig Basler
---
~ 07/08/17 ~
Selling a Stoeger M3500 12 Guage shotgun, 28" Barrel in Realtree camo. Gun is Brand new never fired, $550. Also Selling a CVA Wolf .50 Caliber Muzzleloader with 3-9x32 scope, also brand new, never fired, $300. Email Jwolf2524@gmail.com
---
~ 06/29/17 ~
FOR SALE!! Glock 27 3rd gen .40 cal 4x magazines SALE PRICE: 375.00 *ONLY SELL TO ACTIVE AND RETIRED LEO* if interested feel free to contact me. text 646-262-0676 email. k.buric10868@yahoo.com
---
~ 05/25/17 ~
MOSSBERG PATRIOT NIGHT TRAIN BOLT ACTION RIFLE 308 WIN. PURCHASED THIS A FEW MONTHS BACK, ONLY 20 ROUNDS THROUGH IT. COMES WITH SCOPE TO ADJUST TO SHOOTING SHORT OR LONG DISTANCES. IN LIKE NEW CONDITION. PLEASE EMAIL WITH QUESTIONS OR OFFERS. WILL INCLUDE CASE WITH IT. XXMORIV42XX@AOL.COM
---
~ 04/28/17 ~
I AM AN ACTIVE MOS LOOKING TO BUY ANY AND ALL FIREARMS. LOCAL FFL ON HAND IN WESTERN NASSAU COUNTY AND WESTERN SUFFOLK FOR EASY, CHEAP AND LEGAL TRANSFERS. I AM A COMPETITIVE SHOOTER WHO BUYS, SELLS, AND TRADES ALL FIREARMS. CONTACT ME 24/7 AT TRIGGERMIKENYC@GMAIL.COM BE SAFE OUT THERE! ALL LOCAL, STATE AND FEDERAL LAWS APPLY!
---