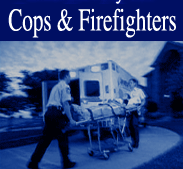 Found 2 UNIFORMS / EQUIPMENT Listings for New York.
Choose a different state:
~ 09/23/17 ~
Selling AR-15. Never used. Palmetto state armory ar15 1:7 twist. Magpul accessories. Comes with two 30-round MagPul magazines as well as 140 round Magpul magazine it also comes with a rear pop-up sight Magpul. Currently installed on it is a iron sight/ carry handle. It also includes and LA police gear rifle case. Only selling to active MOS. 600. Obo Call or text 347-243-6748.
---
~ 09/19/17 ~
Active NYPD UMOS selling Glock 27 3rd Gen 9mm, comes with 3 magazines, original case, 2 off duty holsters in excellent condition.SALE PRICE $399. I WILL ONLY SELL IT TO ACTIVE OR RETIRED LAW ENFORCEMENT No "Exceptions", serious replies only, Manny cell 347-762-9030.
---