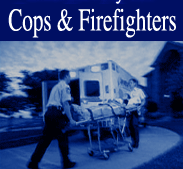 Found 2 SEEKING EMPLOYMENT Listings for New York.
Choose a different state:
~ 05/28/17 ~
Retired officer from NYS Courts seeks position as an Armed Security Guard firearms instructor. I am NYSDOJ certified as an Armed Security Guard instructor with over 18 years experience teaching the 47 hour and 8 hour armed guard classes. I am also N.R.A. Certified as a Law Enforcement Handgun/Shotgun Instructor as well as having a NYS Armed Security Guard Liscense as well as a valid H.R. 218 card. Contact Matt at (718) 610-9698 or at temkinmatthew@yahoo.com
---
~ 05/15/17 ~
Active Peace Officer seeking part time employment. NYS State security license. AED and CPR certified. Class E driver's license. Also possesses bike training certificate. Feel free to contact at 2404689301 or preferably cwt22890@gmail.com.
---