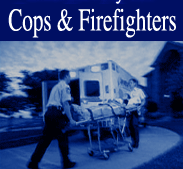 Found 4 SEEKING EMPLOYMENT Listings for New York.
Choose a different state:
~ 03/08/19 ~
Retired Law Enforcement Sergeant with 4 years Armed Security Site Supervisor experience seeks part time or per diem work. No standing only posts. Queens, Brooklyn, Nassau. Can not travel to Manhattan daily. All licenses up to date. Call/text 516 532-8575 Willing to work weekends/nights.
---
~ 03/06/19 ~
Active LEO in Nassau seeking per-diem work. I have experience in surveillance, documentation/report writing & security work. I am very detailed oriented with reports, have excellent communication and investigation skills. I am certified in CPR and speak Cantonese. Call/text me at 631-682-5938 or email me at anthonyyu15@gmail.com
---
~ 02/18/19 ~
Are you looking for flexible hours, a high rate of pay, a boss that finally listens to you? Stop looking for a job. Become your own boss. Start your own business. If you're a cop, active or retired, from anywhere in NY State with at least 20 years of service in any rank or assignment or you have 3 years of investigative experience or investigative supervisory experience, you are eligible to obtain your Private Investigator license. I'm a retired NYPD sergeant and my partner is a retired NYPD 1st grade detective. We're both private investigators now. We earn $30 to $50 and up to $100 per hour on our own schedule, a lot of it by simply talking on the phone. We write off a bunch cool stuff and everyday expenses: cameras, camcorders, computers, printers, office supplies, car mileage, tires, oil changes, meals and more. SALT may be gone but the business write offs aren't. Hell, I even write off a piece of my house for my home office. We're offering tutoring and state of the art study study materials for the licensing exam and application process in electronic and paper formats for your convenience. We even send it to your phone so you have no excuse for not studying. All you have to do is plug in and STUDY the materials anywhere you find the time, on your lunch hour, on the checkout line at Walmart, in the bathroom. If you're interested in learning more give me or my partner a call or text - Det. Marisa Valle-Zarakas 646-483-5519 Or Sgt. Sal Alioto 845-656-4027. Fortune favors the bold.
---
~ 12/27/18 ~
Highly experienced Security Guard Instructor seeks full or part time employment as an instructor at either a Security Guard training school or at a gun range/club. I am a retired officer from the NYS Courts who is a certified General Topics and Armed Security Guard Instructor. I have over 25 years experience teaching the 47 hour armed guard class ( including Article 35) the 8 hour armed requalification, 8 hour pre assignment as well as the 8 hour unarmed recertification class. I am also a N.R.A. Police Handgun/ Shotgun Instructor and a Range Safety Officer with a N.Y.C. Unrestricted Concealed Carry Handgun Liscense and current H.R. 218 permit. Call Matt at (718) 610-9698
---