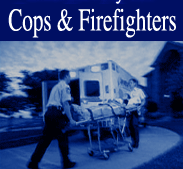 Found 6 SEEKING EMPLOYMENT Listings for New York.
Choose a different state:
~ 02/25/17 ~
Retired Female NYPD Supervisor seeking an Executive Protection/Armed Security/Driver position. Extensive experience working with high net worth clients and their families. Excellent rapport with children. $40.00 p/hr to start. Please call 914-237-0160.
---
~ 02/21/17 ~
Retired NYPD Lieutenant seeking security employment on Staten Island or Brooklyn South vicinity. I would prefer Part-Time, but I am open to working Full-Time. All licenses and permits, including HR-218, are valid and up to date. I may be contacted at geo0171@aol.com
---
~ 02/10/17 ~
Active NYPD MOS with 9 years of service seeking part time work in the Manhattan area. currently work day tours so I am looking for work on the 4x12 shift. contact me with all offers at BKNY27@AOL.COM
---
~ 01/26/17 ~
Retired NYS Courts Officer seeks position as Armed Security Guard Firearms Instructor with a Security Guard School, Armored Car Company or private range. I am also available to coach individual officers who need help with departmental requalifications. I am fully certified under N.Y.S. D.O.J. with over 20 years experience teaching the 47 hour course as well as the 8 hour annual requalification class. I am also an N.R.A Police Handgun/Shotgun certified firearms instructor with extensive teaching experience at law enforcement seminars. Matt at (718) 610-9698 or temkinmatthew@yahoo.com
---
~ 01/15/17 ~
Retired NYPD Det. seeking Part Time Security Supervisor/Manager position preferably 4 x 12 shift. NO MIDNIGHTS. Have some flexibility for weekends, but cannot work steady weekends. Wealth of experience in Security Management. Will discuss & forward Resume if contacted. Have ALL Licenses including PI. Contact RalphieJ15@Aol.com or (516)661-3007.
---
~ 01/13/17 ~
ACTIVE SHOOTER PRESENTATION How to respond to an active shooter Presentation. I am available to conduct 30-90 minute instructional presentation regarding; what to do, if you encounter an active shooter. I work per deim and have a complete power point presentation. If your company or clients are interested please contact me @ jmclr4@gmail.com
---