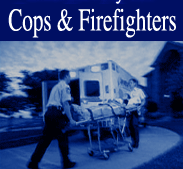 Found 6 SEEKING EMPLOYMENT Listings for New York.
Choose a different state:
~ 05/17/19 ~
Looking for driving,caretaker gig for elderly couple, upper Manhattan, Westchester, Rockland or Orange county. I am retired NYC Detective, I have been working in a Health Care Medical Center for the last 5 years. please text 718-791-8341
---
~ 05/09/19 ~
Retired NYPD Sergeant looking for employment as Armed Security Supervisor or Instructor.I have over 9 years experience in teaching as a state certified instructor(police academy/training sergeant) for NYPD.Reliable, professional and punctual.Presently hold a BS in Security Management for possible contract work. Certifications in the the following CPR/First Aid/AED, State Certified MOI,FLSD training completed,All state/federal carry licenses up to date.Experience with Microsoft Office, Powerpoint, Excel, Internet savy.Not interested in Retail/ jewelry security.Prefer steady NYC(five boroughs) work.Willing to work nights.Interested in my services please text/call me at 917-940-0675 or TunnellRatt@Gmail.com
---
~ 05/04/19 ~
Retired MOS (NYPD & NYC Transit PD), Valid Armed NYS Security License, currently works High School District Security, seeks summer employment (July & Aug), prefer Nassau County area. Reliable, punctual and flexible. Immediate references. Email Ben at: NYBENNY@aol.com.
---
~ 04/21/19 ~
Active NYPD Detective with 23 years of service with specialization in financial crimes investigations and surveillance along with corporate security management. I am seeking a lucrative side gig or post retirement career. I have additional experience with special events and driving VIP's and have class E NYS driver's license. I also will travel. If you're interested in my services, I can be reached at WyattErpis@icloud.com.
---
~ 03/08/19 ~
Retired Law Enforcement Sergeant with 4 years Armed Security Site Supervisor experience seeks part time or per diem work. No standing only posts. Queens, Brooklyn, Nassau. Can not travel to Manhattan daily. All licenses up to date. Call/text 516 532-8575 Willing to work weekends/nights.
---
~ 03/06/19 ~
Active LEO in Nassau seeking per-diem work. I have experience in surveillance, documentation/report writing & security work. I am very detailed oriented with reports, have excellent communication and investigation skills. I am certified in CPR and speak Cantonese. Call/text me at 631-682-5938 or email me at anthonyyu15@gmail.com
---