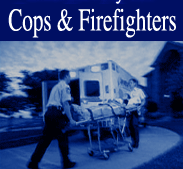 Found 3 WANTED UNIF & EQUIP Listings for New York.
Choose a different state:
~ 04/15/13 ~
Need Sumer Blouse 42-44 Regular and Uniform Pants 36. NYPD Auxiliary, 30+ years at 6th Precinct, member of Auxiliary Ceremonial Unit. Need to look sharp for special details we do and current uniform is looking a bit worn. Can afford a nominal price. e-mail: paledin123@aol.com Thank You!
---
~ 04/15/13 ~
I am active MOS looking for a Smith and Wesson 3953TSW. I have guns for trade or will buy. Call or Text 3476820546 Steve
---
~ 03/21/13 ~
wanted all revolvers and pistols in any condition, also long guns and parts and ammo. call vin 845 269 3350 mike 914 720 0448
---